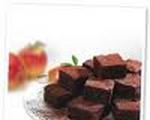 Prep: 15 min
Cook Time: 35 min
Total: 50 min
Serving: 8
Moist and Minty Brownies has flavor, texture and moistness. Perfection!
Ingredients
1 1/4 cups flour
1/2 teaspoon baking soda
1/4 teaspoon salt
3/4 cup sugar
1 stick butter
2 tablespoons water
1 1/2 cups mint flavored semi-sweet chocolate morsels, divided
2 eggs
Directions
Preheat oven to 350 degrees F. Grease 9 inch square baking pan.
In small bowl, combine flour, baking soda and salt; set aside. In small saucepan, combine sugar, butter and water. Bring just to a boil; remove from heat. Add 1 cup mint chocolate morsels and vanilla, stirring until morsels are melted and mixture is smooth.
Transfer to large mixer bowl. Add eggs, beating well after each. Stir in flour mixture and remaining mint chocolate morsels. Spread into prepared pan. Bake 25 to 35 minutes just until center is set. Cool. Cut into 2 1/4 inch squares.