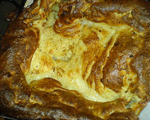 Prep: 15 min
Cook Time: 35 min
Total: 50 min
Serving: 6 Servings
It used to be customary to prepare this dish in the same pan as the roast so the drippings could fall upon it. Now however, it is made in a separate pan and then cut into squares and served.
Ingredients
3/4 cup plus 2 tablespoons all-purpose flour
1/2 teaspoon salt
1/2 cup milk
2 large eggs, beaten
1/2 cup water
Directions
Leave all of the ingredients out until they reach room temperature.
Preheat the oven to 400 degrees.
Sift the flour and the salt into a bowl and then make a well in the center.
Add the milk and stir to combine, and then beat in the eggs and the water.
Continue beating the mixture until large bubbles begin to rise to the surface.
Place 1/4-inch of roast drippings into a 9x12-inch baking dish and then place in the oven until the dish becomes very hot.
Add the batter and bake for 20 minutes, then reduce the heat to 350 degrees and cook for an additional 15 minutes. Serve immediately.