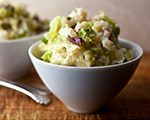 Prep: 10 min
Cook Time: 36 min
Total: 46 min
Serving: 4 Servings
In this dish, the classic Irish potato and cabbage combo is modernized using steamed red potatoes and sautéed cabbage.
Ingredients
1 pound small red potatoes, scrubbed and cut in half
1 tablespoon butter
1/2 cup onion, thinly sliced
6 cups green cabbage, thinly sliced (about 1/2 head)
1 cup low-fat milk
1 teaspoon salt
1/4 teaspoon white pepper
Directions
Using a steamer, steam the potatoes for about 20 minutes until soft yet still tender, and then transfer to a large bowl, covering to keep warm.
In a large sauté pan, melt the butter over medium heat and then add the onion and sauté for 3 minutes.
Mix in the cabbage and sauté the mixture for an additional 5 minutes. Cabbage will begin to brown.
Turn the heat down to low and then slowly pour in the milk, mixing to combine. Sprinkle in the salt and pepper and then simmer the mixture, covered, for about 8 minutes.
Place the cabbage mixture into the bowl with the potatoes, and mash with a fork or potato masher until reaching desired consistency.