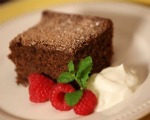 Prep: 20 min
Cook Time: 40 min
Total: 1 hr
Serving: 15 servings
Created from wonderful ingredients like dark chocolate, coffee and Greek yogurt, this cake is a delicious, moist dessert your whole family will love.
Ingredients
1 cup all-purpose flour
3/4 cup whole wheat pastry flour or whole wheat flour
1 teaspoon baking soda
1 teaspoon cinnamon
1/2 teaspoon baking powder
1/2 teaspoon salt
1/2 cup small dark chocolate pieces
1/2 cup canola oil
1 cup packed brown sugar
1 cup Dannon Oikos Greek Nonfat Plain Yogurt
2 eggs
1/2 cup brewed coffee, room temperature
1 teaspoon vanilla
2 teaspoons powdered sugar
2 teaspoons cocoa powder
Directions
Preheat oven to 325 degrees F. Coat 9 x 13 inch baking pan with vegetable oil spray. Stir together flour, baking soda, cinnamon, baking powder and salt in medium bowl.
Microwave chocolate in a large glass bowl for 20-30 seconds. Stir with whisk until completely smooth. Stir in canola oil and sugar. Stir in yogurt, then eggs one at a time, followed by coffee and vanilla. Add 1/2 of the flour mixture and blend until moistened. Add remaining flour and stir.
Pour mixture into pan and bake on middle rack for 35-40 minutes or until cake pulls away from sides of pan and toothpick inserted into the center comes out clean. Cool, sprinkle powdered sugar and cocoa powder on top and cut into servings.