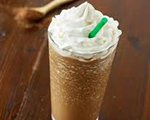 Prep: 30 min
Cook Time: –
Total: 30 min
Serving: 2 servings
For all you coffee lovers who enjoy this Starbucks treat, try this delicious version from scratch instead.
Ingredients
4 cup double-strength coffee, cold
3 tablespoons granulated sugar
1 cup low-fat milk
2 cups ice
3 tablespoons caramel topping
whipped cream
3 tablespoons Hershey's Chocolate Syrup
Directions
Brew 4 cups of double-strength coffee in a coffee maker with twice the amount of coffee typically required.
Place in the refrigerator and chill.
Place the chilled coffee, sugar, milk, ice and caramel in a blender, and blend until smooth and creamy.
Transfer the mixture into 2 large glasses, top with whipped cream and chocolate syrup, and serve immediately.