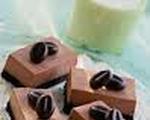 Prep: –
Cook Time: 2 hr
Total: 2 hr
Serving: Makes 12 pieces
Try this quick and easy recipe for mocha cheesecake cups. They're great for any get together.
Ingredients
1 package (1 tablespoon) unflavored gelatin
1 cup hot coffee
16-ounces cream cheese, cubed
2/3 cup Splenda
1-ounce unsweetened baking chocolate
2-ounces unsweetened baking chocolate
12 packets Splenda (for topping)
4 tablespoons butter
4 tablespoons cream
1 teaspoon vanilla
Directions
Melt chocolate in a double boiler.
Bring coffee to a boil; add gelatin and dissolve.
Add coffee mixture and cream cheese to blender and mix until smooth (or mix with electric mixer).
Add melted chocolate and Splenda; beat until smooth. Spray 12 muffin tins; place mixture into each.
To make topping: Melt chocolate and butter over double boiler; remove from heat. Stir in rest of ingredients. Spoon over cheesecake cups and refrigerate until firm.