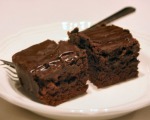 Prep: 15 min
Cook Time: 25 min
Total: 40 min
Serving: Makes 15-20 squares
A classic treat, Mocha Brownies are moist, chocolaty, and are a crowd-pleasing favorite.
Ingredients
3 ounces unsweetened chocolate, melted
1 cup of dark brown sugar
1/2 cup butter, softened
1/2 cup flour
1/2 cup pecans (optional)
2 eggs
1 teaspoon vanilla
1/2 teaspoon salt
1/4 cup butter
2 cups powdered sugar
3 tablespoons espresso or strong coffee
1 teaspoon vanilla
Directions
Preheat oven to 325 degrees. Mix together chocolate, dark brown sugar, butter, flour, pecans, eggs, vanilla and salt; beat until blended. Bake in an 8-inch lightly floured baking dish for 15 to 25 minutes, or until toothpick comes out clean. Cool completely.
Combine frosting ingredients (1/4 cup butter, powdered sugar, coffee and 1 teaspoon vanilla) in a bowl and beat with an electric whisk. Frost cooled brownies and cut into 15-20 bite-sized squares.