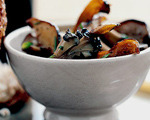 Prep: 10 min
Cook Time: 15 min
Total: 25 min
Serving: 8 servings
This mixed mushroom and fresh herb dish is extremely versatile as it can be enjoyed as a side dish, tossed with hot pasta or spooned over grilled meats and poultry as a delicious topping.
Ingredients
3 cloves garlic, minced
3 shallots, peeled and cut into thin wedges
2 tablespoons olive oil
1-1/4 pounds mixed mushrooms (such as maitake, oyster, white button, or shiitake), sliced
1/4 cup snipped fresh mixed herbs
1/4 teaspoon sea salt
1/4 teaspoon fresh black pepper
Directions
Place the oil into a large sauté pan over medium-high heat. Once the oil begins to shimmer, add the garlic and the shallots and sauté for 2 minutes. Stir in the mushrooms and cook the mixture for 12 minutes.
Add the mixed herbs to the pan and then sprinkle the mixture with the salt and pepper. Toss well to combine and then serve immediately.