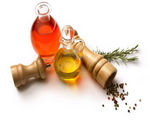 Prep: 10 min
Cook Time: 15 min
Total: 25 min
Serving: 8
Another yummy recipe from the folks at Swanson
Ingredients
3 tablespoons olive oil
1/4 cup finely chopped sweet onion or shallots
1 cup Swanson Chicken Broth (Regular, Natural Goodness™ or Certified Organic)
2 tablespoons balsamic vinegar
1/4 cup packed brown sugar
1 tablespoon coarse-grain Dijon-style mustard
2 bags (5 to 8 ounces each) mixed salad greens
2 ripe pears or apples, thinly sliced (about 2 cups)
1/2 cup dried cherry or cranberries
1/4 cup pecans, toasted
Crumbled blue cheese (optional)
Directions
Heat 1 tablespoon oil in a 2-quart saucepan over medium heat. Add the shallots and cook for 3 minutes or until they're tender.
Stir the broth, vinegar, brown sugar and mustard in the saucepan and heat to a boil. Cook for 5 minutes or until the mixture is slightly reduced. Remove the saucepan from the heat. Beat the remaining oil into the broth mixture with a fork or whisk. Remove the saucepan from the heat and cool slightly.
Toss the salad greens with 1/2 cup dressing in a large bowl. Arrange the greens on a serving platter. Top with the pears, cherries, pecans and cheese, if desired. Serve with the remaining dressing.