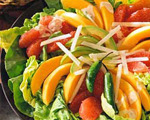 Prep: 20 min
Cook Time: –
Total: 20 min
Serving: 6 Servings
This luscious and colorful selection of grapefruit, avocado, papaya and jicama is drizzled with a creamy and spicy sauce.
Ingredients
Bibb lettuce leaves to garnish
2 medium red grapefruits, peeled and sectioned
1 medium avocado, seeded, peeled, and sliced lengthwise
1 medium papaya, seeded, peeled, and sliced lengthwise
1/2 of a medium jicama, peeled and cut into matchstick-size pieces
1/4 cup dairy sour cream
1 tablespoon honey
1 tablespoon fresh lime juice
1-1/2 finely chopped and seeded fresh jalapeno peppers
1/4 teaspoon paprika
Directions
Artfully arrange the lettuce leaves onto a serving platter and set aside.
Place the sour cream, honey, lime juice, jalapeño and paprika into a food processor or blender, and process the mixture until smooth.
Arrange the grapefruit, avocado, papaya, jicama onto the prepared platter and then drizzle with the prepared dressing. Serve immediately.