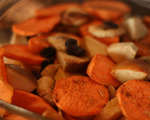 Prep: 10 min
Cook Time: 50 min
Total: 1 hr
Serving: 6 Servings
This hearty dish can be served as a sweet side accompaniment to pork, or can be enjoyed as a dessert topped with vanilla-flavored yogurt or ice cream.
Ingredients
2 medium yams, peeled and cut into 1/4-inch slices
1 cup chopped pineapple
1 cup sliced banana
3/4 cup chopped apple
1/4 cup raisins
1/3 cup dry white wine or apple juice
1 tablespoon packed brown sugar
1 teaspoon grated lemon peel
1 teaspoon ground cinnamon
1/2 teaspoon ground ginger
1/4 teaspoon ground nutmeg
Melted butter to coat pan
Directions
Preheat your oven to 350 degrees and brush an oven pan with butter to coat.
Place all of the ingredients into the prepared pan and toss well to combine. Place the mixture in the oven for 50 minutes to bake. Serve immediately.