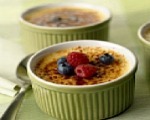 Prep: 15 min
Cook Time: 15 min
Total: 30 min
Serving: Serves 4 people
This is an elegant dessert for a special occasion. Mixed Berry Custard Brulee includes your favorite berries and a caramelized sugar topping.
Ingredients
1/4 cup of sugar
2 teaspoons of cornstarch
1 cup of fat-free milk
1 egg, beaten
2 tablespoons of slight dairy sour cream
1/2 teaspoon of vanilla
3 cups of fresh berries (raspberry, blackberry and blueberry)
Directions
For the custard: In a small saucepan, thoroughly combine 2 tablespoons of the sugar and the cornstarch. Add the milk and egg and stir with a wooden spoon over medium heat until the mixture barely begins to bubble. Immediately pour the custard into a small bowl and let stand for approximately 5 minutes.
Whisk the sour cream into the custard and add the vanilla. Cover and chill the custard for 24 hours.
When you're ready to serve the dessert, divide the berries evenly into four dessert dishes. Spoon the chilled custard over the berries. You may need to thin the custard a bit prior to spooning it out. If so, stir a bit of milk into the custard to thin.
For the topping: In a heavy saucepan heat the remaining 2 tablespoons of sugar over medium-high heat, just until the sugar starts to melt. You should shake the saucepan a bit to ensure the sugar heats evenly.
Reduce the heat to low and cook the sugar until it's melted and golden. You may need to stir the sugar with a wooden spoon.
Quickly drizzle the caramelized sugar over the top of each dessert serving.