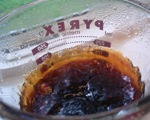 Prep: 10 min
Cook Time: 5 min
Total: 15 min
Serving: Glaze for 1-1/2 pounds of meat
Brush this glaze onto grilled meats and chicken for a wonderful spicy and garlicky coating of flavor.
Ingredients
1/4 cup plus 2 tablespoons vegetable oil
4 cloves garlic, thinly sliced
1/4 cup low-sodium soy sauce
2 tablespoons red miso paste
1 teaspoon Asian sesame oil
pinch of sugar
pinch of sea salt
1-1/4 pounds beef tenderloin, sliced 1/4 inch thick
Directions
Place the oil into a saucepan over low heat. Once it begins to shimmer, add the garlic and cook for 3 minutes, and then transfer the garlic to a blender using a slotted spoon.
Place the soy sauce, miso, sesame oil, sugar and salt into the blender and process the mixture until smooth.