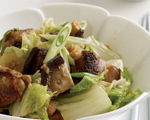 Prep: 10 min
Cook Time: 10 min
Total: 20 min
Serving: 4 Servings
Miso is a thick paste made from blending fermented soybeans, salt, and kojikin with barley or with rice malt. It is a staple ingredient in Japanese cooking and is frequently added to soups and sauces.
Ingredients
3 tablespoons light miso paste
2 cloves garlic, minced
1 teaspoon Asian sesame oil
3/4 cup chicken stock
3 tablespoons vegetable oil
1-1/4 pounds skinless, boneless chicken thighs, cut into 1-1/2-inch pieces
Salt and freshly ground pepper
1/2 pound shiitake mushrooms, caps quartered
2 tablespoons minced ginger
3/4 pound Napa cabbage, coarsely chopped 4 cups
3 ounces daikon radish, peeled and thinly sliced 1/2 cup
2 scallions, thinly sliced
Directions
Place the miso, garlic, sesame oil and 1/2 cup of the chicken stock into a bowl and whisk together until blended.
Put the oil into a large sauté pan over high heat. Once the oil begins to shimmer, season the chicken with salt and pepper and add to the pan. Cook for 4 minutes, turning once, and then remove from the pan and set aside.
Place the shiitake, ginger and the remaining stock into the pan, cover and cook over medium heat for 2 minutes. Stir in the cabbage and then return the chicken back to the pan. Cook the mixture for 1 minute, add the miso mixture and then bring the contents of the pan to a simmer. Add the daikon and the scallions to the mixture, stir to combine and then serve immediately.