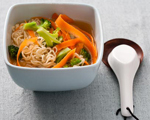 Prep: 5 min
Cook Time: 10 min
Total: 15 min
Serving: 4 Servings
This Japanese-inspired soup is perfect for a light lunch when you are time-constrained. You can find ramen noodles and white miso in the International section of your local supermarket.
Ingredients
4-1/3 cups water
salt
2 cups small broccoli florets
1 cup grated carrots
2 3-ounce packages ramen noodle soup, flavoring packet discarded
3 tablespoons white miso
Directions
Pour 4 cups of water into a small soup pan and add a sprinkle of salt.
Once the water begins to boil, add the broccoli and the carrots and simmer for 3 minutes.
Break the noodles in half and add to the soup pan making sure they are covered with the water. Cook the noodles, covered, for 3 minutes.
In the meantime, place the miso and remaining water into a small pan over medium heat and stir to combine. Remove the pan from the heat and stir in 1/2 cup of the hot noodle broth.
Pour the miso mixture into the pot with the noodles, sprinkle the mixture with some salt and stir to combine. Serve hot.