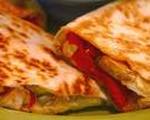 Prep: –
Cook Time: –
Total: –
Serving: 1 Person
It's BBQ season: time for great food, good friends, and warm weather. Don't let the parties go to your waist, try this delicious recipe from the beautiful Miraval Resort.
It's an amazing blend of zucchini, mushrooms, and roasted red bell peppers layered with sprouts, havarti cheese, and lime dill aioli grilled on whole wheat tortilla.
Ingredients
1/2 teaspoon extra-virgin olive oil
1/4 cup zucchini, julienned
1/4 cup mushrooms, julienned
1/4 cup red peppers, julienned
1 large whole-wheat tortilla
2 tablespoons lime dime aioli
1/4 cup sunflower sprouts
1-ounce Havarti cheese
Directions
Heat a medium sauté pan over medium-high heat and add the oil to lightly coat the bottom of the pan; add the zucchini, mushrooms, and pepper and cook until the zucchini has softened, approximately 2 minutes; remove from heat.
Heat the pinni grill over medium-high heat; spray with cooking spray. Place the tortilla on a cutting board; spread the aioli on the tortilla. Lay the sautéed vegetables on half of the tortilla; place the sprouts and cheese on top of the vegetables. Fold the other half of the tortilla over the cheese. Carefully place the tortilla on the grill and cook until the cheese has melted and the tortilla has browned.