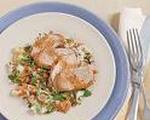 Prep: –
Cook Time: –
Total: –
Serving: 6 People
It's BBQ season: time for great food, good friends, and warm weather. Don't let the parties go to your waist, try this delicious recipe from the beautiful Miraval Resort.
Ingredients
For the pork:
1 1/2 to 2 pounds pork tenderloin
Asian marinade
For the salad:
1 cup red pepper, julienned
1 cup zucchini, julienned
1/2 cup yellow squash, julienned
1 cup carrots, julienned
1/2 cup fresh shiitake mushrooms, julienned
1 teaspoon tahini (sesame paste)
1 tablespoon tamari (soy) sauce
1 tablespoon rice wine vinegar
1/2 teaspoon fresh garlic, minced
1 teaspoon fresh ginger, minced
1/4 teaspoon Sriracha (chili) sauce
1/8 teaspoon ground star anise
1/2 cup unsweetened orange juice
For the Asian marinade:
1/2 cup light brown sugar, packed
1/2 cup unsweetened orange juice
1/4 cup cilantro, finely chopped
2 tablespoons green onions, finely chopped
2 tablespoons seasoned rice vinegar
2 tablespoons sesame oil
2 tablespoons water
2 teaspoons fresh garlic, minced
2 teaspoons fresh ginger, minced
2 teaspoons lemon zest, freshly grated
2 teaspoons tamari (soy) sauce
1 teaspoons Chinese five spice
1/2 teaspoon crushed red chili
Directions
Pork:
Place the pork in a shallow baking pan and coat with the marinade; marinate between 1/2 and 1 hour.
Preheat the oven to 400 degrees F.
Heat a large ovenproof sauté pan over medium-high heat; add the olive oil to lightly coat the bottom of the pan; add the tenderloin to sear on all sides; this will take about 2 minutes on each side. Place the pan in the preheated oven and bake for 10 minutes to finish cooking.
Salad:
In a mixing bowl, combine all the vegetables. In a separate mixing bowl, combine the remaining ingredients and whisk to combine.
Add the dressing to the vegetables and mix well. Place the salad in the refrigerator for at least 1/2 an hour to allow the flavors to marry.
To plate, arrange 1/2 cup of salad on each plate. Slice the pork into thin slices; divide among the 6 plates and arrange around the salad.
Asian marinade:
In a mixing bowl, combine all the ingredients and mix well.
Store in an airtight container in the refrigerator for up to 1 week.