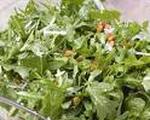 Prep: –
Cook Time: –
Total: –
Serving: 4 People
It's BBQ season: time for great food, good friends, and warm weather. Don't let the parties go to your waist, try this delicious recipe from the beautiful Miraval Resort.
Ingredients
1/4 cup red onion, julienned
5 cherry tomatoes, cut in half
1 1/3 cup white and red endive, julienned
1 cup arugula, torn
2 teaspoons basil, chiffonade
1/4 cup balsamic vinegar
2 teaspoons extra-virgin olive oil
1/4 teaspoon black pepper, freshly ground
1/4 teaspoon sea salt
2 teaspoons balsamic syrup (garnish)
Directions
In a mixing bowl, toss the red onion, tomatoes, endive, arugula, and basil.
In a small bowl, combine the vinegar, oil, salt, and pepper; toss the salad with the dressing. Arrange the salad on a plate and drizzle with syrup.