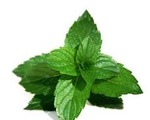 Prep: 15 min
Cook Time: 35 min
Total: 50 min
Serving: 12
Chocolate and mint make Mint Sticks irresistable.
Ingredients
margarine
4 squares semisweet chocolate
4 eggs
2 cups sugar
1-1/4 cups flour
1-1/4 teaspoons peppermint extract
1/2 cup nuts, chopped
3 cups confectioners' sugar
dash of salt
2 to 4 tablespoons milk
Directions
Melt 1 cup margarine and 2 squares chocolate together in a small saucepan; cool.
Beat eggs and sugar in a bowl until foamy. Add melted chocolate, mixing well. Add flour, 3/4 teaspoon peppermint and nuts, mixing well. Pour into a 9 x 13-inch baking pan. Bake at 350 degrees F for 25 to 35 minutes; cool.
Cream 1/4 cup softened margarine, confectioners' sugar, salt and 1/2 teaspoon peppermint extract together in a bowl. Add milk to spreading consistency. Spread over chocolate layer. Let stand until set.
Melt remaining 2 squares chocolate with 2 tablespoons butter in a small saucepan. Spread over frosting. Chill and cut into squares.