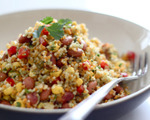 Prep: 2 hr 10 min
Cook Time: –
Total: 2 hr 10 min
Serving: 6 Servings
Use your choice of beans for this filling vegetarian salad. Great northern, cannellini, black or navy beans work especially well.
Ingredients
3 cups cooked couscous
2 cans (15 ounces) beans
1-1/2 cups finely chopped green bell peppers (about 1-1/2 medium)
1 cup finely chopped carrots (about 2 medium)
1/2 cup sliced red onion (about 2 medium)
1/2 cup golden raisins
1/2 canned corn
1/4 cup chopped fresh mint
1/4 cup chopped fresh parsley
1/4 cup fresh lemon juice
1/4 cup fresh orange juice
3-1/2 tablespoons olive oil
1/2 teaspoon sea salt
1/2 teaspoons freshly ground pepper
1/2 teaspoon ground cinnamon
Directions
Put the couscous, beans, green pepper, carrots, onion, corn and raisins into a large salad bowl.
Place the mint, parsley, lemon juice, orange juice, olive oil, salt, pepper and cinnamon into a separate bowl, and whisk vigorously until the mixture is thoroughly combined.
Pour the dressing over the couscous mixture and toss gently to combine. Cover the salad and place in the refrigerator for at least 2 hours prior to serving.