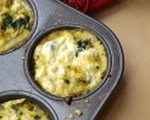 Prep: 10 min
Cook Time: 15 min
Total: 25 min
Serving: Serves about 6
The only thing better than a frittata is one that's bite-size, right? These cute, savory and delicious frittatas are the perfect way to start your day. They are made with feta cheese, spinach and some zesty spice, so there is a ton of flavor packed into those little bites.
Ingredients
1/2 yellow pepper
1/4 cup chopped summer squash
1 medium onion, chopped
1/2 cup chopped mushrooms
2 tablespoons butter
6 eggs
2/3 cup feta cheese
3/4 cup wilted spinach
Dash of sea salt
Dash of pepper
Directions
Preheat oven to 350 degrees F. Liberally grease a muffin pan with cooking spray. In a large skillet, heat butter. Add onions and cook until soft, about 2 minutes. Add in mushrooms, pepper, summer squash and spinach, cook another 5 minutes. Remove from heat.
In a small bowl, beat eggs, salt and pepper. Scoop vegetable mixture into the muffin cavities, filling about 1/2 full. Pour egg mixture over each one, careful not to overflow the cups. Sprinkle feta cheese over eggs. Sprinkle with additional salt and pepper to taste. Bake for 15 or until eggs are set.