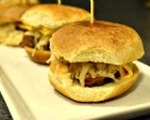 Prep: 30 hr
Cook Time: 2 hr 30 min
Total: 32 hr 30 min
Serving: 14 sliders
Warm beer-braised corn beef, savory sauerkraut, rich thousand island, tangy swiss cheese and a perfectly toasted slider bun make these mini reubens to die for! Each little slider is bursting with all of the flavors you love from the traditional deli sandwhich in a mini bite size appetizer. Serve warm with dill pickle chunk.
Ingredients
2 pounds corn beef brisket
1 cup of dark brown beer, seperated
2 cups of sauerkraut, drained
1 onion, finely chopped
7 slices of swiss cheese cut in half (14 half slices)
1 teaspoon basil
1 teaspoon sage
1 teaspoon rosemary
1 teaspoon salt
1 teaspoon black pepper
1 cup of mayonnaise
1 cup of ketchup
1/4 cup of sweet pickle relish
2 teaspoons Worcestershire sauce
1 tablespoon of sugar
2 tablespoons of milk
1 cup of water, divided
14 slider buns, toasted
Directions
Preheat oven to 350 degrees F.
Mix together basil, sage, rosemary, salt and pepper. Rub spices all over corn beef brisket. Place brisket in a jelly roll pan (or deep roasting pan). Pour water and 1/2 cup of beer over brisket. Cover with foil and bake for two hours. Check in every 30-60 minutes to baste beef to prevent it from over drying. Once brisket is done, remove foil and let cool.
While brisket bakes, prepare sauerkraut. Place sauerkraut, 1/2 cup of beer and 1/2 cup of water into a sauce pan. Heat on medium for about 30-40 minutes, or until liquid has decreased.
To make the thousand island, mix mayonnaise, ketchup, relish, Worcestershire sauce, sugar and milk. Chill for at least 20-30 minutes.
To make sliders, slice the corn beef into thin slices. Cut in half. Place two half slices on the bottom of the slider bun. Put 1 tablespoon of sauerkraut, 1/2 slice of cheese and a dollop of thousand island. Cover with top bun and enjoy!