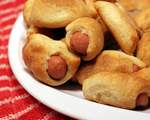 Prep: 30 min
Cook Time: 12 min
Total: 42 min
Serving: 8-10 People
This all-time American party favorite is just one of the delightful dishes in A Reader's Cookbook, the latest from three-time James Beard award winner Judith Choate.
Honey-Mustard Sauce Ingredients
1 cup German-style mustard
½ cup honey

1 teaspoon hot sauce
Preparation
In a small bowl, whisk mustard, honey and hot sauce until well combined.
Set aside one-quarter cup for pigs in a blanket preparation and use remainder as dipping sauce when serving.
Add the honey-mustard sauce to the mini pigs before baking and as a dipping sauce afterward, as follows:
Ingredients
Two 8-ounce cans refrigerated crescent roll dough
32 cocktail franks
1 large egg
1 tablespoon heavy cream
Directions
Preheat oven to 375 degrees
Line two baking sheets with parchment paper or use nonstick baking sheets
Separate the dough from each can of rolls into four equal rectangles; then cut each rectangle into four 3-inch long strips
Working with one piece at a time, lightly coat each dough strip with Honey-Mustard Sauce. Place a cocktail frank at the center and carefully roll the dough up and over the frank, leaving each end uncovered. Lightly push ends of dough together to seal it around frank.
Place each pig in a blanket, seam side down, on the prepared baking sheets, leaving about two inches between them.
Whisk egg and cream in shallow bowl until combined. Using a clean pastry brush, lightly coat the top of each pastry with the mixture.
Place in preheated oven and bake for 12 minutes or until pastry is slightly puffed and golden brown.
Remove from oven and serve warm with remaining Honey-Mustard Sauce as a dip. Serve warm.