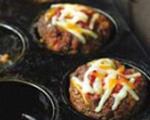 Prep: 20 min
Cook Time: 50 min
Total: 1 hr 10 min
Serving: 4 People
This itty-bitty version of the popular American dinner staple will fill your family's bellies without going overboard. These easy-to-make, do-it-yourself mini meatloaves are tantalizingly tasty and fun to bake up.
Ingredients
1 pound extra-lean ground beef or lean ground turkey
1 (6-ounce) package stuffing mix
1 cup water
Seasoning options:
1. 3/4 cup spaghetti sauce, 3/4 cup mozzarella cheese, 1 teaspoon Italian seasoning
2. 3/4 cup salsa, 3/4 cup shredded cheese (Mexican mixture), 2 teaspoons chili powder
3. 3/4 cup chopped roasted red pepper, 3/4 cup crumbly feta, 1 teaspoon dried oregano leaves
4. 3/4 cup BBQ sauce, 3/4 cup shredded cheddar cheese, 1 teaspoon garlic powder
Directions
Preheat oven to 375 degrees F.
Combine ground beef or turkey, stuffing mix, water and your choice of seasoning until mixed thoroughly.
Fill 12 greased muffin cups and make a groove in the center of each with a spoon.
Spoon in your chosen add-ons into the groove.
Bake for 30 minutes or until cooked through.
After 30 minutes, take out and sprinkle with remaining cheese and put back in until cheese is melted.