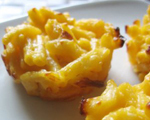 Prep: 25 min
Cook Time: 27 min
Total: 52 min
Serving: Makes 48 appetizers
This dish is obviously a favorite among kids, but it can also be used as a fun appetizer for your next party. Dress up the recipe by using more sophisticated cheeses like; Gruyere, Gouda, Brie and Fontina.
Ingredients
1/2 pound elbow macaroni
1-1/2 tablespoons unsalted butter, plus more for brushing
1/4 cup freshly grated Parmesan cheese
2 tablespoons all-purpose flour
3/4 cup milk
4 ounces cheddar cheese, shredded (1 packed cup)
4 ounces deli-sliced American cheese, chopped
1 large egg yolk
1/4 teaspoon smoked Spanish paprika
Directions
Preheat the oven to 425 degrees and brush four, 12-cup muffin tins with butter.
Cook the macaroni as directed on package. Drain and set aside.
Melt the 1-1/2 tablespoons butter in a large saucepan over medium heat and then mix in the flour and cook for 2 minutes.
Slowly pour in the milk and cook, whisking continuously so milk doesn't stick, for 5 minutes. Stir in the cheddar and American cheese and continue to whisk until cheese has totally melted.
Take the mixture off the heat and add the egg yolk and paprika. Continue to whisk in order to blend well. Add in the macaroni and gently stir until coated.
Using a large spoon, place the macaroni into the prepared muffin tin cup and then sprinkle with the Parmesan.
Place the tins in the oven and bake for 10 minutes each. Remove, and let cool for at least 6 minutes before removing from tin.