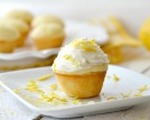 Prep: 5 min
Cook Time: 14 min
Total: 19 min
Serving: 24 Mini muffins
Want a surefire way to get your kids to eat something new, like a lemon muffin? Turn them into something they can eat in just one bite! These adorable and bite-size muffins make perfect on-the-go breakfast ideas, as well as great lunchbox stuffers!
Ingredients
2 cups all-purpose flour
1/2 cup white sugar
3 teaspoons baking powder
3-1/2 tablespoons lemon zest
Dash of salt
3/4 cup (2 percent) milk
1/3 cup vegetable oil
1 egg
Directions
Heat your oven to 400 degrees F. Line a muffin tin with baking cups.
In a medium bowl, combine the flour, sugar, baking powder, lemon zest and salt and mix well. Add the wet ingredients and mix well.
Pour the batter into the lined muffin tin. Bake for about 16 minutes or until a toothpick comes out dry.