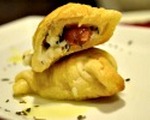 Prep: –
Cook Time: 8 min
Total: 8 min
Serving: About 8 puffs
If you are looking for the taste of Italy, look no further than this delicious appetizer! This stuffed puff pastry is filled to the brim with fresh mozzarella, juicy vine ripened tomatoes, Italian olive oil and a fresh basil leaf. With each bite, you'll be transported to a quaint villa in the hills of Tuscany. Pair each puff with a crisp glass of white wine for a truly Italian experience!
Ingredients
1 (8 ounce) can of refrigerated puff pastry dough
4 ounces of fresh mozzarella, chopped
2 medium vine tomatoes, chopped
2 basil leaves, chopped
2 tablespoons of extra virgin olive oil
1/8 teaspoon salt
Cooking spray
Directions
Preheat oven to 350 degrees F. Line a baking dish with foil and then coat with cooking spray.
Unroll pastry dough and separate into 4-inch long and wide rectangles. Place one chunk of mozzarella (about the size of 1 teaspoon), 2 chunks of tomato, 1/4 teaspoon fresh basil leaves onto the pastry. Carefully roll the dough up and enclose the filling by pinching the dough together.
Place the doughs on the foil and drizzle with olive oil and sprinkle with salt. Bake for about 8-13 minutes, or until browned.
Serve with extra olive oil and enjoy!