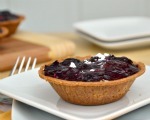 Prep: 15 min
Cook Time: 20 min
Total: 35 min
Serving: 12 People
The only thing better than a cheesecake is one that's bite-sized! These easy to eat, portable black cherry cheesecakes are the perfect anytime dessert. Made with tart black cherries and rich cream cheese, these darling desserts are not only cute, but they're also absolutely delectable! Serve these at any brunch, party or even special event for a truly impressive and tasty take on cheesecake!
Ingredients
FOR THE CRUST:
1 cup graham cracker crumbs
3 tablespoons melted butter
FOR THE FILLING:
1 (8-ounce) package cream cheese
1/3 cup sugar
1 tablespoon lemon juice
1 teaspoon vanilla extract
1 egg
FOR THE TOPPING:
1 pound frozen black cherries (with juices)
1/4 cup white sugar
1/4 cup brown sugar
2 tablespoons corn starch
2 tablespoons water
Directions
Preheat the oven to 375 degrees F. Combine crumbs and butter until a coarse mixture is formed. Press crumbs into the bottom of a mini cheesecake pan and along the sides of each cavity. Set aside.
In a large bowl, beat cream cheese, sugar, lemon juice, egg and vanilla together with a hand-held mixer until fully combined. Scoop filling into the crusts and fill about 2/3 the way full.
Once filled, bake for about 12 minutes or until tops are golden brown and firm. Remove from cavities and let chill in the fridge for at least an hour.
While cheesecakes cool, prepare topping by pouring cherries, sugar and corn starch in a saucepan over medium high heat. If mixture doesn't contain much liquid, add water. Bring to a boil and cook for a minute while at a rapid boil. Reduce heat until mixture thickens, about two to four minutes.
Scoop a heaping tablespoon of filling over the cheesecakes and garnish with a bit of powdered sugar.