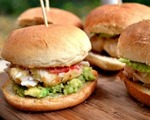 Prep: 1 hr 15 min
Cook Time: 6 min
Total: 1 hr 21 min
Serving: 12 mini sliders
If crab cakes are your favorite indulgence, these mini sandwiches are sure to be a new favorite in your household! Each mini crab cake slider is made of fresh, Maryland lump crab and is served on a toasted bun with a creamy avocado spread. These sliders are perfect year round, especially in the summer when crab is in peak season.
Ingredients
1 pound fresh lump crab meat
8 whole wheat crackers, divided
1 egg, beaten
2 tablespoons of olive oil mayonnaise
1 teaspoon spicy mustard
1/2 teaspoon seafood seasoning
1/8 teaspoon salt
1/8 teaspoon pepper
2 tablespoons extra virgin olive oil
12 slider buns, slightly toasted
1 avocado, mashed
1/2 small onion, finely minced
1/4 teaspoon sea salt
1 tabelspoon of lemon juice
Directions
Crush crackers until very fine and mix 1/2 crumbles with mayonnaise, mustard, sea food seasoning, salt, pepper and egg.
Gently fold in the crab and mix until crab is covered in mayonnaise-cracker mixture. Carefully fold into 12 mini crab cakes and place into a jelly roll pan. Chill for at least one hour.
Heat olive oil in a medium pan. Once crab has been chilled, carefully remove from jelly roll pan. Cover each cake in remaining crushed crackers to form a breading.
Place in oil and fry on both sides until browned, about 4-6 minutes.
While crab cakes are frying, mix mashed avocado, onion, lemon juice and sea salt. Spread mixture over one half of each toasted slider bun. Place crab cake over avocado mixture, top with remaining bun and serve!