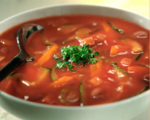 Prep: 20 min
Cook Time: 10 hr
Total: 10 hr 20 min
Serving: 6
Any type of small pasta can be used in this recipe.
Ingredients
1 cup diced beef
1 pound corn chickpeas
1 onion, minced
1 clove fresh garlic, minced
1 large carrot, diced
2 stalks celery, diced
1 pkg. frozed chopped spinach
1-10 oz. can tomatoes
1 potato, diced
2 tablespoon fresh parsley, chopped
1 large can chicken broth
1/2 cup elbow macaroni
1/2 cup grated Parmesan cheese
Directions
Place all ingredients except macaroni and cheese in crock pot.
Additional water can be added if chicken broth does not cover contents.
Cook on high 1 hour and then switch to low for 6-8 hours or on low for 9 hours
Add macaroni and cook another 30 minutes.
Serve in soup bowls and generously sprinkled with cheese.