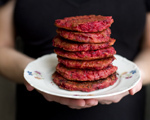 Prep: 10 min
Cook Time: 25 min
Total: 35 min
Serving: Makes 10 burgers
Millet is an extremely healthy, non-glutinous whole-grain with a mildly sweet and nutty flavor. Try it in this vegetarian-friendly beetroot and millet burger recipe.
Ingredients
1 cup water
1/2 cup millet (rinsed in hot water)
a pinch of fennel seeds
4 small beetroots, grated
1/2 zucchini, grated
1 large carrot, grated
1 onion, grated
4 eggs
1 handful lemon balm (chopped)
sea salt and freshly ground pepper
Oil for frying
Directions
Place the water into a pot and bring to a boil. Add the millet, salt and fennel and cook over low heat for 10 minutes.
Place the millet mixture into a bowl and add the grated vegetables, eggs, spices and a few pinches of salt and pepper. Mix to combine and then form into patties.
Place about 1 tablespoon of oil into a skillet. Once the oil begins to shimmer, add 2 patties and cook for 2 minutes on each side over medium heat. Cook the rest of the patties in the same manner, adding additional oil when needed. Serve immediately on toasted buns with your choice of toppings.