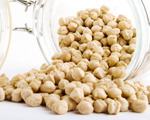 Prep: 2 hr 40 min
Cook Time: –
Total: 2 hr 40 min
Serving: Makes about 2 cups
This hearty spread is made from blending garbanzo beans (also known as chickpeas) with lemon juice, tahini paste and various spices to create a thick and satisfying dish. Serve slathered onto pita bread or as a dip for baked tortilla chips and vegetables.
Ingredients
1 can drained garbanzo beans
1/3 cup orange juice
2 tablespoons fresh lemon juice
1 tablespoon tahini paste
2 teaspoons balsamic vinegar
1/2 teaspoon salt
1/ teaspoon ground cumin
1/4 teaspoon ground coriander
1/4 teaspoon paprika
2 cloves garlic, finely chopped
1/4 cup chopped green inions (3 medium)
Directions
Place all of the ingredients, excluding the onions, into a food processor and blend mixture until smooth. Transfer the spread to a bowl, fold in the onions and then cover and place in the refrigerator for 2-1/2 hours to chill.