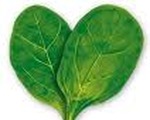 Prep: 5 min
Cook Time: 25 min
Total: 30 min
Serving: 6
Microwave Rice and Spinach Deluxe is creamy and quick to make with instant rice.
Ingredients
2 teaspoons butter
1 cup onion, chopped
1 1/2 cups instant rice
1/2 teaspoon salt
1, 10 ounce package frozen chopped spinach
1, 5 ounce jar sharp process cheese spread
1, 10 3/4 ounce can cream of mushroom soup
1/8 teaspoon nutmeg
Directions
Melt butter in 1 1/2 quart microwave casserole on HIGH for 20 to 30 seconds. Stir in onion. Cook for 3 to 4 minutes or until tender.
Add rice, salt and 1 1/2 cups water, mixing well. Microwave covered, on HIGH for 2 to 3 minutes, bring to a boil. Let stand until water is absorbed.
Place spinach in 1 quart microwave casserole. Cook for 3 minutes. Drain excess moisture. Add rice mixture and cheese spread. Stir until cheese spread melts. Add soup and nutmeg, mixing well.
Microwave for 7 to 9 minutes or to 150 degrees on microwave thermometer.