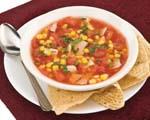 Prep: –
Cook Time: –
Total: –
Serving: Serves 4 to 6
A light and flavorful way to start your Mexican meal. Toasting whole spices and then grinding them adds a depth of flavor that already ground spices cannot deliver.
Ingredients
1 teaspoon whole cumin seeds
1 teaspoon whole coriander seeds
1 corn tortilla, cut into matchsticks
1 tablespoon olive oil
1 small onion, diced
1 clove garlic, minced
Pinch cayenne
1 cup diced tomatoes
Juice and zest of a lime
5 cups chicken or vegetable broth
Salt and freshly ground black pepper to taste
3/4 cup crumbled goat cheese
Fresh cilantro leaves
Directions
Preheat oven to 350 degrees F. Place cumin and coriander seeds and tortilla strips on a baking sheet. Cook in the oven for 4 to 5 minutes or until spices are fragrant and tortilla strips are toasted. Remove and set aside to cool.
Grind cumin and coriander seeds in a grinder and set aside. Heat oil in a large saucepan over medium heat and cook onion for 5 minutes, stirring often. Add garlic and cook, stirring, 1 minute. Add ground cumin and coriander, cayenne, tomatoes, lime zest and juice, and broth. Bring to a boil. Lower heat and simmer for 10 minutes. Taste and adjust seasoning with salt and pepper.
Ladle into bowls and garnish with tortilla strips, goat cheese and cilantro. Serve hot.