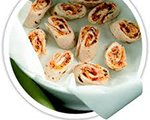 Prep: 15 min
Cook Time: 15 min
Total: 30 min
Serving: 12 roll-ups
A perfect kid's party treat; serve these taco flavored roll-ups with a side of sour cream and salsa.
Ingredients
1 (10-ounce) can refrigerated pizza dough
4 ounces (1 cup) cheddar cheese, shredded
1/2 cup canned corn,.drained
1/2 cup diced tomatoes
4 teaspoons taco seasoning
Directions
Preheat the oven to 350 degrees.
On top of a clean and lightly floured surface, form the dough into a 12x8-inch rectangle.
Evenly sprinkle the taco seasoning and cheese over the dough, leaving 1/2-inch around the edges, and then add the corn and tomatoes.
Roll the dough up like a jelly roll and then pinch the edges of the roll to seal. Cut into 1-inch thick slices.
Place each slice onto a baking sheet and bake for 15 minutes. Serve warm.