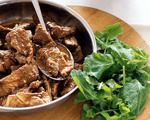 Prep: 15 min
Cook Time: 8 min
Total: 23 min
Serving: 4 Servings
Spicing up your life and your palette is simple with this easy recipe for Mexican strips of spicy beef served with piquant dressing and a fresh salsa.
Ingredients
1 pound steak, sliced into thin strips
2 tablespoons olive oil
FOR THE DRESSING:
1/4 cup olive oil
2 tablespoons lime juice
1 teaspoon dried oregano
1 teaspoon ground cumin
1/2 teaspoon ground coriander
1/4 teaspoon ground chili powder
1 clove garlic, crushed
Salt, to taste
FOR THE SALSA:
2 large, firm red tomatoes, chopped
6-8 red spring onions, chopped
1 handful of coriander leaves, chopped
1 tablespoon red wine vinegar
1 red chilli, chopped
Sea salt to taste
Directions
Place the 2 tablespoons of olive oil into a large skillet over medium-high heat. Once the oil begins to shimmer, add the meat and cook until browned but still slightly pink in the middle. Set the pan aside.
To make the dressing, place the 1/4 cup of olive oil, lime juice, oregano, cumin, coriander, chili powder, garlic and a few pinches of salt and pepper to taste into a large bowl. Stir the mixture well to combine and then add the steak strips to the bowl. Toss well to coat and then set aside.
To make the salsa, place the tomatoes, onions, coriander, vinegar, chilli and a few pinches of salt and pepper into a bowl and mix well to combine.
Serve the steak with the salsa and a side of flour tortillas.