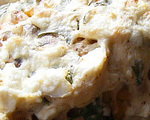 Prep: 10 min
Cook Time: 15 min
Total: 25 min
Serving: Makes 4 Servings
There are other ways to serve grilled corn besides with a pat of butter. Instead try it Mexican style with cheese, sour cream and lime.
Ingredients
4 cobs of corn
2 tablespoons mayonnaise
2 tablespoons sour cream
1/4 cup grated Oaxacan cheese
1/4 cup grated parmesan cheese
Red chili powder, to taste
1/4 bunch of flat-leaf parsley, finely chopped
1 lime, juiced
2 limes cut into wedges for garnish
Directions
Place the corn on the grill over medium-high heat and turn frequently to cook on all sides.
In the meantime, place the mayonnaise and sour cream into a bowl and combine, then place the cheese into another bowl and mix to combine.
Once the corn is slightly charred and evenly cooked, about 15 minutes, remove and slather with the sour cream mixture.
Sprinkle lime juice over the corn and cover with the cheese mixture.
Add a sprinkle of chili powder and parsley, and serve immediately.