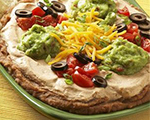 Prep: 2 hr 20 min
Cook Time: 8 min
Total: 2 hr 28 min
Serving: 15 Servings
A tasty Mexican-inspired dip made with black beans, jalapeno peppers, guacamole and salsa. Serve with tortilla chips and cold Corona beer.
Ingredients
1 tablespoon butter
1 small (1/2 cup) red bell pepper, chopped
1 medium (1/2 cup) onion, chopped
2 (15-ounce) cans black beans, rinsed, well-drained
1 to 2 teaspoons fresh chopped jalapeño chiles
1 (12-ounce) container (1-1/2 cups) guacamole
1 cup salsa
1 cup shredded lettuce
8 ounces (2 cups) cheddar cheese, shredded
Directions
Place the butter in a small sauté pan over medium-high heat.
Once the butter begins to sizzle, add the red pepper and onion and sauté for 4 minutes.
Add the beans and the chiles, stir and cook for an additional 3 minutes.
Place 1 cup of the bean mixture in a food processor and process until smooth. Transfer the pureed bean back to the sauté pan and stir to combine.
Evenly spread the bean mixture onto a serving dish, cover and place in the refrigerator for at least 2 hours.
Before serving, top the bean mixture with the guacamole, lettuce, salsa and cheese.