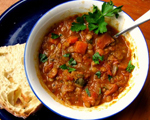 Prep: 10 min
Cook Time: 21 min
Total: 31 min
Serving: 4 Servings
This soup is thick, hearty and flavorful and just perfect for a chilly evening with friends around the fire. If you can't find Chorizo sausage, use any other spicy sausage of your choice.
Ingredients
1 chorizo link of sausage
1 onion
1 large can peeled whole tomatoes
2 small cans diced tomatoes
2 tablespoons of ketchup
1/2 cup red pepper, diced
2 bay leaves
1 teaspoon thyme
1 tablespoon cumin
1-1/2 cup green lentils, soaked and rinsed
3 cloves garlic, minced
3-1/2 cups beef broth
1-1/2 cup water
salt and freshly ground pepper
Directions
In a large soup pot, brown the chorizo, garlic and onion over medium heat for 8 minutes.
Add the ketchup and cook, stirring, for 3 minutes.
Add in the red pepper, bay leaves, thyme, cumin, lentils, garlic, broth, water and salt and pepper and bring to a boil. Once boiling, reduce heat to medium-low and simmer for 20 minutes. Skim off any extra oil from the top of the soup and discard.
Adjust the seasoning, ladle into bowls and serve warm. Serve with fresh, crusty bread.