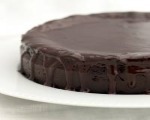 Prep: 20 min
Cook Time: 30 min
Total: 50 min
Serving: Serves 8 people
Mexican Chocolate Cake gives dessert a dash of heat with its seasonings and spices.
Ingredients
1-1/2 cups of all-purpose flour
1 cup of granulated sugar
1/2 cup unsweetened cocoa
2 teaspoons of cinnamon
1 teaspoon of baking soda
1/4 teaspoon of cayenne pepper
1/4 teaspoon of salt
1 cup of cold water
1 tablespoon of balsamic vinegar
1 tablespoon of vanilla extract
1 cup of powdered sugar
1/2 cup of cocoa
6 tablespoons of water
Directions
Preheat your oven to 350 degrees. Lightly coat an 8-inch cake pan with cooking spray.
In a medium-sized mixing bowl combine the flour, granulated sugar, 1/2 cup of cocoa, cinnamon, baking soda, cayenne pepper, salt, water, vinegar and vanilla. Mix until smooth.
Pour the cake mixture into the pan and bake for about 25-30 minutes. Cool in the pan for about 10 minutes. Remove the cake from the pan once it's cool.
When the cake has completely cooled, make your cake glaze by whisking together the powdered sugar, 1/2 cup cocoa and water.
The glaze will be a thin and a bit runny. Place your cake on a serving platter and drizzle the glaze over the cake. Let the glaze dry a bit before serving.