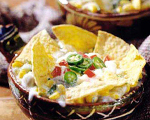 Prep: 15 min
Cook Time: 38 min
Total: 53 min
Serving: 4 Servings
A delicious dish to serve guests for Cinco De Mayo; serve with frosty glasses of Sol Mexican beer.
Ingredients
Nonstick spray coating
6 6-inch corn tortillas, each cut into 6 wedges
2 cups cubed cooked chicken
1 cup loose-pack frozen whole kernel corn
1 16-ounce jar salsa verde
3 tablespoons sour cream
3 tablespoons snipped fresh cilantro
1 tablespoon all-purpose flour
1 cup crumbled Mexican Chihuahua cheese (4 ounces)
Sour cream, to garnish
Snipped fresh cilantro, to garnish
Chopped tomato, to garnish
Jalapeno pepper, thinly sliced, to garnish
Directions
Preheat the oven to 350 degrees, and spray 4, 10-ounce baking dishes with cooking spray.
Place 5 tortilla wedges in the bottom of each baking dish, and place the remaining tortilla wedges on a baking sheet in the oven for 10 minutes.
In the meantime, place the chicken, corn, salsa, 3 tablespoons of sour cream, cilantro and the flour together in a medium-sized bowl, and mix until blended.
Fill each prepared baking dish with the chicken mixture and then bake for 20 minutes.
Remove the tortilla casseroles from the oven and top with the baked tortilla wedges and the cheese. Bake for an additional 8 minutes and then top with sour cream, cilantro, tomatoes and jalapeno pepper. Serve warm.