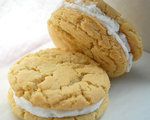 Prep: 15 min
Cook Time: 30 min
Total: 45 min
Serving: 16
These richly-filled, crisp cookies are bliss to bite into.
Ingredients
Cookies:
1/2 cup unbleached all-purpose flour
1/2 cup cake flour
3/4 cup cornstarch
1/2 teaspoon baking powder
1/4 teaspoon salt
3/4 cup (1-1/2 sticks) butter at room temperature
3/4 cup cofectioners' sugar
1 teaspoon pure vanilla extract
Buttercream Filling:
1/4 cup (1/2 stick) unsalted butter, softened at room temperature
3/4 cup confectioners' sugar
1 teaspoon pure vanilla extract
1/2 ounce dark bittersweet chocolate, melted
Directions
Position a rack in the middle of the oven. Heat oven to 300 degrees F. Line two baking sheets with parchment paper.
Into a medium-sized bowl, sift both flours, cornstarch, baking powder and salt and set aside.
In a large bowl and using an electric mixer on medium speed, beat the butter, sugar and vanilla until smooth and lightened slightly in color, 1 minute. Stop the mixer and scrape the sides of the bowl as needed during the mixing.
Mix in the flour mixture just until the flour is incorporated and a smooth dough forms.
For each cookie, roll a level tablespoon of dough between the palms of your hands into a smooth ball. Place the cookies on the prepared baking sheets, spacing them 2 inches apart.
Use a fork to gently flatten the cookies to 1-1/4-inch disks and to make an impression of the fork tines in the top of each.
Bake the cookies one sheet at a time until the tops feel firm but do not darken, about 30 minutes or just set.
Transfer the cookies to a wire rack to cool completely.
In a second medium-sized bowl, mix butter, sugar and vanilla until smooth. Stir in melted chocolate.
Turn half of the cooled cookies bottom side up. Use a thin metal spatula to spread a rounded teaspoon of filling evenly over bottom of each.
Gently press the flat bottom of the remaining cookies on the filling. Serve at room temperature.