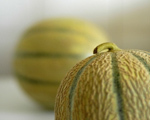 Prep: 15 min
Cook Time: –
Total: 15 min
Serving: 6 Servings
Fresh honeydew melon adds a sweet and cool element of flavor that traditional tomato-based salsa cannot imitate. Enjoy this as a refreshing summer dip or served atop of grilled meats and seafood.
Ingredients
2 tablespoons orange juice
1 tablespoon lime juice
1 tablespoon Champagne vinegar
1 shallot - peeled and minced
1 tablespoon ginger - peeled and minced
1 tablespoons jalapeno pepper - brunoise (or more for extra heat, if desired)
3 cups watermelon - peeled and diced
1 cup honeydew melon - peeled, seeded and diced
1 cup cucumber (English) - peeled and diced
1/4 cup mint Leaves
2 tablespoons olive oil
Sea salt and pepper - to taste
Directions
Place the orange juice, lime juice, vinegar, shallot, ginger and jalapeño pepper into a large salad bowl and mix well to combine.
Add the melon and the cucumber and gently toss to combine.
Drizzle the salad with the oil, sprinkle with some salt and pepper to taste and then add the fresh mint. Toss once again to combine and then serve immediately.