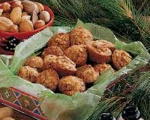 Prep: 15 min
Cook Time: 15 min
Total: 30 min
Serving: 4 dozen
Kids will love these bite size muffins, and bonus! they are packed with lots of the good stuff moms love!
Ingredients
Vegetable oil spray or mini muffin liners
2 1/2 cups flour
1/2 cup honey
3 1/2 teaspoons baking powder
1 teaspoon salt
3 tablespoons vegetable oil
1 1/4 cups skim milk
1 egg
1/4 cup minced nut
1/4 cup mashed banana
1/4 cup grated carrot
1/4 cup grated zucchini
1/4 cup raisins
Directions
Preheat oven to 350 degrees Fahrenheit. Spray or line a 48 count mini muffin pan.
Mix together the flour, honey, baking powder, salt, oil, milk and egg.
Stir in the remaining ingredients until blended.
Pour into the prepared muffin pan and bake for 10-15 minutes, or until golden.