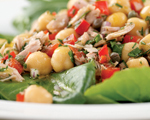 Prep: 15 min
Cook Time: –
Total: 15 min
Serving: 4 Servings
A medley of beans, vegetables and tuna make this Mediterranean-inspired salad the perfect summer meal.
Ingredients
1 15- to 19-ounce can beans, such as chickpeas, black-eyed peas or kidney beans, rinsed
2 5- to 6-ounce cans water-packed chunk light tuna, drained and flaked (see Note)
1 large red bell pepper, finely diced
1/2 cup finely chopped red onion
1/2 cup chickpeas, drained
1/2 cup chopped fresh parsley, divided
4 teaspoons capers, rinsed
1 1/2 teaspoons finely chopped fresh rosemary
1/2 cup lemon juice, divided
4 tablespoons extra-virgin olive oil, divided
Freshly ground pepper to taste
1/4 teaspoon salt
8 cups mixed salad greens
Directions
Place the beans, tuna, bell pepper, onion, parsley, capers, chickpeas, rosemary, 1/4 cup lemon juice and 2 tablespoons of oil into a bowl, and stir to combine. Add a few grinds of fresh pepper and stir once more. Set aside
In another bowl whisk the remaining 1/4 cup lemon juice, 2 tablespoons oil and salt together. Add the mixed salad greens to the bowl and toss to coat.
Divide the greens between 4 salad bowls and then evenly top with the tuna mixture.