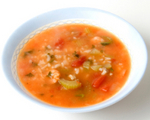 Prep: –
Cook Time: –
Total: –
Serving: Makes 4 servings
Brimming with the fresh herb flavors of southern France, this recipe uses instant rice that slightly thickens the soup as it cooks and gives it body. If you don't like chunks of tomato, puree the tomatoes in a blender before you cook them. Or, puree the entire soup with an immersion blender after it has simmered 20 minutes for an extra-smooth consistency. Pair with our Gluten-Free Macaroni and Cheese.
Recipes from: 1,000 GLUTEN-FREE RECIPES by Carol Fenster
Ingredients
2 cans (14.5 ounces each) gluten-free, low-sodium chicken broth, such as Swanson's Natural Goodness
1 can (15 ounces) petite diced tomatoes, including juices
1/4 cup diced fresh onion
1 1/2 tablespoons of finely chopped fresh oregano, basil, marjoram, and rosemary, plus extra for garnish
1/2 teaspoon sugar
1/4 teaspoon salt, or to taste
1/4 cup instant brown rice
Directions
Combine all the ingredients in a 2-quart heavy saucepan. Bring to a boil over high heat, reduce the heat to low, and simmer, covered, 20 minutes. Serve hot, garnished with a sprinkle of fresh herbs.