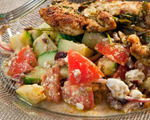 Prep: 40 min
Cook Time: 10 min
Total: 50 min
Serving: 4 Servings
A combination of garlic, oregano, za'atar, feta and Kalamata olives makes this summertime salad a myriad of invigorating Mediterranean flavors.
Ingredients
2 cloves garlic, finely chopped
4 tablespoons olive oil
2 teaspoons fresh oregano
1 teaspoon za'atar
1/4 teaspoon salt
1/4 black pepper
1 pound skinless, boneless chicken breast
3 cups chopped peeled cucumber (about 3 cucumbers)
1/2 cup sliced red onion
1/2 crumbled feta cheese
2 tablespoons pitted kalamata olives, chopped
2 ripe tomatoes cut into 1-inch pieces
1 teaspoon white winte vinegar
1 teaspoon fresh lemon juice
1/4 teaspoon sea salt
1/4 teaspoon ground red pepper
1/4 teaspoon black pepper
Directions
Put the garlic, 2 tablespoons of olive oil, oregano, za'atar, salt and pepper into a small bowl and mix well to combine. Rub the mixture onto the chicken breasts and set aside for 30 minutes at room temperature.
Place the remaining olive oil into a large sauté pan over medium-high heat. Once it begins to shimmer, add the chicken and sear for 5 minutes on each side. Transfer the chicken to a plate and slice into 1-inch pieces once cool enough to handle.
Place the chicken into a bowl and then add the cucumber, lemon juice, white wine vinegar, onion, feta, olives, tomatoes and a few pinches of salt, red and black pepper to taste. Toss the mixture well to combine and then serve.