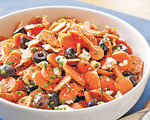 Prep: 45 min
Cook Time: –
Total: 45 min
Serving: 4 Servings
The sweetness of the carrots creates an enjoyable contrast to the brine-cured olives, salty feta, citrusy lemon juice and fresh parsley in this recipe for Mediterranean Carrot Salad.
Ingredients
2 cloves finely chopped garlic
2 tablespoons boiling water
1/4 cup fresh lemon juice
1/4 cup extra-virgin olive oil
2 teaspoons sugar
1/2 teaspoon dried basil
1/4 teaspoon dried oregano
Sea salt and fresh pepper
1 pound carrots, peeled and sliced
3/4 cup brine-cured, pitted Mediterranean olives, halved
1/2 cup chopped fresh Italian parsley
1/2 cup crumbled feta
Directions
Place the garlic into a bowl with the water and then set aside for 5 minutes to soak.
Add the lemon juice, oil, sugar, basil, oregano and a few sprinkles of salt and pepper to the bowl with the garlic and then vigorously mix to combine.
Place the carrots and the olives into a salad bowl and then add the prepared dressing. Toss to coat and then cover the bowl and place into the refrigerator for 30 minutes to allow the flavors to blend.
Remove the salad; add the parsley and the feta and toss to combine.