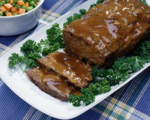 Prep: 20 min
Cook Time: –
Total: 20 min
Serving: 10
The apple glaze give a whole new taste to meatloaf.
Ingredients
Meatloaf:
6 slices light whole wheat bread, torn into tiny pieces (about 1 1/2 cups)
2 pounds lean ground meat
1 green apple, cored, finely chopped
2 eggs
2 egg whites
3 tablespoons horseradish
1 red onion, finely chopped
1/2 cup finely minced fresh parsley
3/4 cup ketchup
2 tablespoons mustard
Glaze:
1 cup apple juice
1/2 cup chicken stock
1/2 cup ketchup
2 teaspoons Chinese 5-Spice seasoning
Directions
Preheat oven to 350 degrees F. and spray a flat baking pan with non stick spray. Place bits of bread on the baking pan and place in oven until toasted and crisp, 5 to 10 minutes.
Remove from oven and transfer to a large mixing bowl. Add remaining ingredients to bread and mix with your hands until ingredients are incorporated.
Shape meat mixture into a loaf and place it on the center of the baking pan.
Bake for 1 1/2 hours or until cooked through.
To make the glaze, combine glaze ingredients in a saucepan over medium-high heat.
Bring to a boil then reduce heat and simmer until liquid is reduced to a glaze consistency.
Remove from heat and pour over the meatloaf about 15 minutes before meatloaf is done.