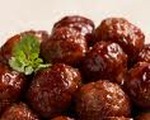 Prep: 20 min
Cook Time: 1 hr 10 min
Total: 1 hr 30 min
Serving: 4
All in one pot, Meatball Dinner is a meat and potato lover's favorite.
Ingredients
1 pound ground beef
2 tablespoons onion, chopped
2 tablespoons green pepper, chopped
1/2 cup yellow cornmeal
1 teaspoon each salt, chili powder
1 1/2 teaspoons dry mustard
1/2 cup milk
1 egg, beaten
6 carrots, halved
6 small onions
4 potatoes, peeled and quartered
1 can tomato soup
Directions
Combine first 9 ingredients in bowl, mixing well. Shape into small meatballs. Place in baking dish. Bake at 400 degrees F for 10 minutes.
Layer meatballs and vegetables in baking dish. Pour soup over top. Bake covered, at 350 degrees F for 1 hour.